Saturday 13th September 2014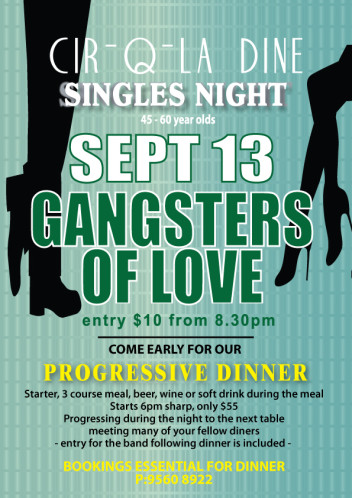 Cir-Q-La-Dine Progressive Dinner
Over 45s Event
Make sure you book for September's Cir-Q-La Dine night!
We've got crowd favourite Gangsters of Love performing live on September 13th – a great night for over 45's.
Entry $10 from 8.30pm.
Why not come early for our progressive dinner? Starter, three course meal. Beer, wine or soft drink during the meal. Starts 6pm sharp, only $55. Progressing during the night to the next table meeting many of your fellow diners. Entry for the band following dinner is included.
Bookings for dinner are essential. Terms and conditions apply. For further information, please call us today on 03 9560 8922.
$55 Progressive dinner and band.
$10 Band only

From 6pm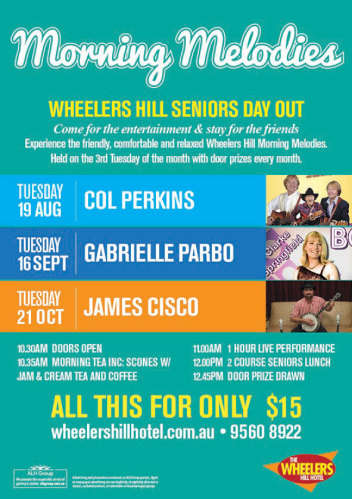 Morning Melodies
Seniors day out
Come for the entertainment and stay for the friends!
Every month we have a great new performer to enjoy, plus a 2 course seniors lunch to follow.
Upon arrival you will be greeted by our friendly staff who will show you to your allocated table, and once ready, take your lunch order. Then help yourself to our scrumptous morning tea of scones with jam and cream.
When the show begins you will be tapping your feet and clapping your hands to the energetic performers we have lined up for you.
There are all sorts of giveaways and competitions every month.
You're sure to be impressed and tell your friends about the Wheelers Hill "Morning Melodies".
Every 3rd Tuesday of the month.
Doors open - 10.30am
Show starts - 11am
Lunch served - 12pm
$15
Tickets available at venue
Booking fee may apply
10.30am